Bose Noise Cancelling Headphones 700 aim to retake the audio crown
---
Bose has revealed a new set of noise-cancelling headphones, the first of a three-product launch aiming to claw back the "traveler's favorite" crown from upstart rivals like Sony. The new Bose Noise Cancelling Headphones 700 are the first step of the trio, building on the well-esteemed tech inside the QuietComfort range, and integrating smart assistants and more.

At their core, there's an all-new acoustic and electronics package, Bose says, together with new digital signal processing. Eight microphones have been squeezed into the headphones, six of which are focused on noice cancellation. Two of those microphones combine with two others for beam-forming, to better isolate the wearer's speech.
Then there's a rejection-array, which Bose says should be able to block even the most intrusive background chatter. That includes other conversations through to loud mechanical noises, like coffee grinders. As you'd expect, it all adjusts in real-time to the angle of your head and where the extraneous noise is coming from.

Bose's noise cancellation is adjustable, with multiple levels offered to support different degrees of ambient noise being passed through to the wearer. At one extreme, for example, the Noise Cancelling Headphones 700 do everything they can to silence the outside world; at the other, there's full pass-through of external noise. Conversation Mode pauses both whatever music and video is currently playing and shuts off the noise cancellation, so that you can quickly hear and respond to somebody, then resumes it all when turned off again.

For music, there's the promise of Bose's proprietary active equalization. That, the audio company says, should mean less listener fatigue over time.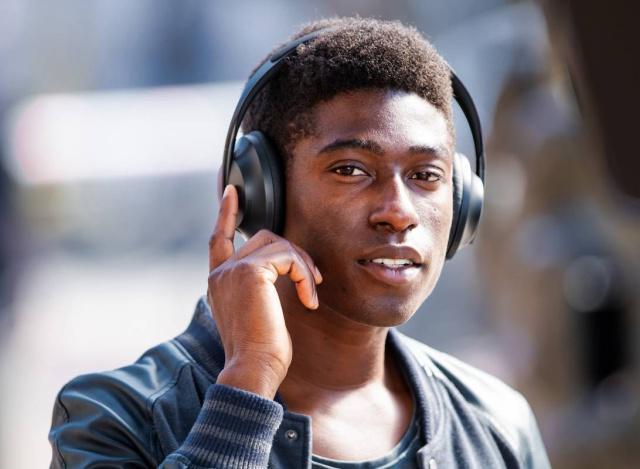 The Google Assistant and Amazon Alexa are integrated into the headphones themselves, and Alexa can be summoned using the familiar wake-word from Echo smart speakers. Amazon Siri support is also included, if the Noise Cancelling Headphones 700 are paired with an iOS device. Bose AR is included, with support for audio-based augmented reality apps, and down the line the company says that users will be able to install noise-masking tracks that add "a layer of soothing sounds" over the noise-canceled silence within the headphones.

Foldable, the headphones are made of stainless-steel and Bose says they've been designed to have fewer visible screws and seams than is typical. More important, there's up to 20 hours of battery life, along with capacitive touch controls for things like navigating your music, adjusting volume, and answering or ending calls. Three buttons handle power, setting the noise cancellation level, and triggering the wearer's voice assistant of choice; that can be set through the Bose companion app.

Bose will be supplying the Noise Cancelling Headphones 700 with a thin hard-sided case, which is designed to slot more easily into a bag or an airplane seat-back pocket. They're available to preorder in black and silver from today, priced at $399, and will ship June 30, joining rather than replacing the QuietComfort 35 II headphones.
The first of three new noise-cancelling products

Bose doesn't plan on letting rivals like the Sony WH-1000XM3 headphones steal all of its thunder, at least not without a fight. The Noise Cancelling Headphones 700 are the first of a trio of products in the pipeline for this year and next, therefore.

Next to come will be the Bose Earbuds 500, which will be a set of fully wireless earbuds from the company. They're expected to launch later in 2019. Next year, meanwhile, will come the Bose Noise Cancelling Earbuds 700, another fully wireless set but with enhanced capabilities.

Bose isn't sharing any more details on the specifications of either set of earbuds at this stage, promising only that we'll know more on that front closer to their respective release dates. However it's not hard to imagine that features like integrated smart assistants, adjustable noise cancellation levels, and smart control over media playback through Conversation Mode will all likely be core to the 'buds.
headphone,bose,noise cancelling

ADD:NO. 142, South Tanshen road, Tanzhou town, Zhongshan city, Guangdong province, P.R.C 528467